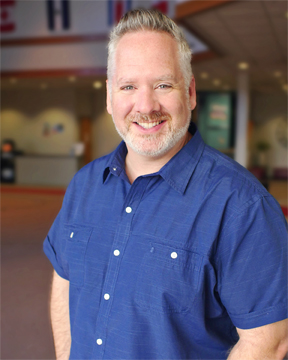 Associate Pastor of Worship
Dr. Alan Fath is the Associate Pastor of Worship at First O'Fallon. He has been in ministry for over 25 years, previously serving in Houston, Texas, Orlando, Florida, and Mobile, Alabama. Alan is married to Mandy who is a true partner in his ministry. They have a daughter, Gracie, and a little dog, Charlie.
Alan has a Bachelors in Psychology from the University of Mobile, a Masters in Christian Counseling from Midwestern Baptist Theological Seminary, and a Doctorate in Biblical Counseling from Andersonville Baptist Theological Seminary. Alan's heartbeat is twofold. First, he desires to develop a spirit of unity in the church body that feels very much like a family. To see the church lay their problems at the feet of Jesus so that regardless of style, they would find themselves worshipping together as a community. Second, he desires to use the gift of counseling to help encourage the body of Christ and mentor people in God's Word helping them to put off the old man and to put on the new. 
In his spare time, Alan loves cycling, going to the gym, and exploring the city where he lives. He is a huge Superman fan, and being raised in L.A. (Lower Alabama), he is naturally a Crimson Tide fan…ROLL TIDE!!
Alan's life verse is Romans 8:28 – "All things work together for good to them that love God and are called according to His purpose." The ultimate good is not that life will just work out for us and be wonderful, but that no matter what we face that God will use those circumstances to shape and conform us into the image of His Son.